The
Iceland Laugavegur Trek
is a wild and wonderful trek set amongst the wonderful and impressive landscapes of Iceland.
From the modern city of Reykjavik to the volcanoes, glaciers, waterfalls and steaming lava fields of the interior, Iceland is a country of great contrast. Iceland homes truly unique environments, like nothing you would come across in mainland Europe, which attracts visitors that want to experience magical surroundings and a phenomenal trekking arena.
An excellent choice for those that want to experience this is the undertaking of Laugavegur Trail. A famed trail for its stunning views and range of terrain, those lucky enough to experience this will not be disappointed.
Spanning 49 miles, this is the longest hiking trail in the country. Well travelled, with past hikers and rangers adding special wooden signposts in important positions, the trail can trekked alone or with a special group.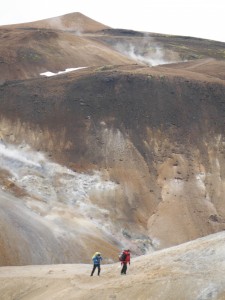 As suggested by the name, Iceland will (depending on climate and season) have icy sections and generally cold temperatures. This means you'll not only have the battle of the long walk up and down trails and mountains, but also have to do so whilst bracing yourself from the cold conditions.
The 6 day Iceland Laugavegur Trek offered by Adventurous Ewe can guide you as a part of the group through some of the most spectacular wilderness that will see you enjoy camping along the way. Discreet vehicle support is also on hand that enables the supply of well-equipped camps and means you can travel lightweight, ensuring maximum satisfaction while working through the environment.
This specific trip allows you to travel through lakes and magnificent lava field, gurgling hot springs and steaming vents, as well as deep canyons, small valleys and the opportunity to whale watch or enjoy the Blue Lagoon.
When you opt to go with a tour group, you is much less risk, more convenience and you get to meet like minded people that will make the experience just that little bit better!
The following video will give you a taste of the Laugavegur Trek in Iceland!